The western-most Tumbleweed dispensary, customers enjoy making this their last pit stop as they cruise west along I70. Locals from the Grand Junction area also dig our High Roller Rewards Program, where they save $5 on every $100 spent. It is no wonder why our western slope renegades keep coming back for more. Our store carries the largest selection of CBD tinctures and topicals on the Western Slope. Check out our WeedMaps menu under the brand name Care Division for a complete list.
We also have an amazing dog park all fenced in for your little critters. Why should you have all the fun?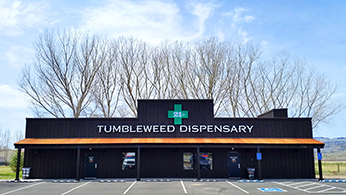 De Beque Dispensary
Age 21+
2185 45 1/2 Rd
De Beque

,

CO

81630
9:00am-9:00pm Daily - Walk-in service and online ordering are available at this location. Masks are required for entry, and social distancing is observed.
MASKS REQUIRED FOR ENTRY.
De Beque location only, limited time offers.
---
WHILE SUPPLIES LAST:
50% off Infinite Anti-Aging Serum
30% off Care Division CARE (2000mg CBD / 30mg THC) Tincture
25% off Care Division DREAM (500mg CBD / 30mg THC) Tincture
30% off MEND (1000mg CBD / 30mg THC) Tincture
20% off Daily Care 1:1 Topical
---
Buy TWO Carefree 1:1 topicals and receive a Daily Care 1:1 topical for $0.01!
---
Spend $85 (pre-tax) on Care Division products and receive a Daily Care cream for $0.01!